Reading Sean MacDonald's raves about AMA Supercross turned me on to watching the series on TV. When my wife told me they were holding an event at nearby Gillette Stadium this past April, there wasn't even a question that we and her kids had to go see it for ourselves. You can read detailed reports of the races and results elsewhere. I'm going to focus on what the overall experience was like. I had no special press access or anything, so it was the same experience anyone else would have as a spectator.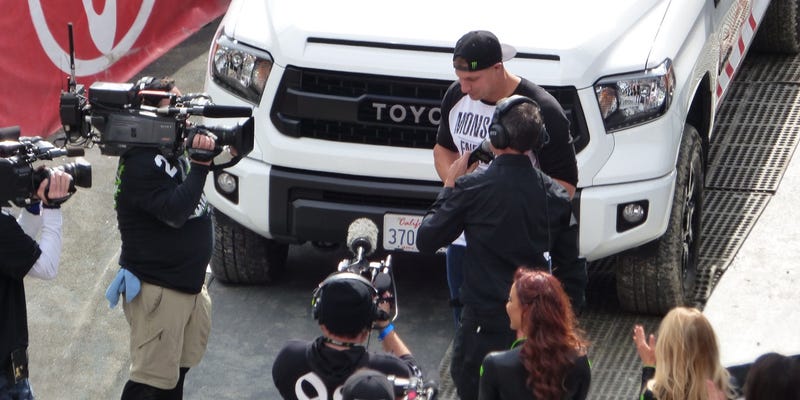 No one at this event knew Gillette Stadium as well as Gronk – Rob Gronkowski of the New England Patriots. He was the Grand Marshal of the event. Of course, it had been transformed from the immaculate gridiron he's familiar with into a tight dirt track full of bumps and jumps.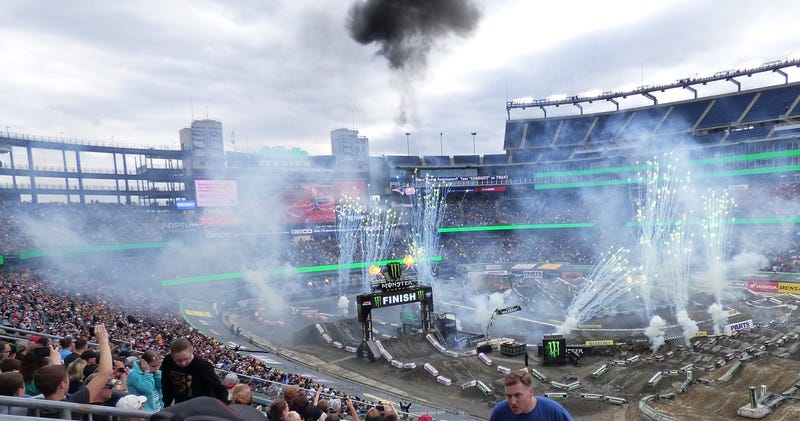 It was a great show, with plenty of fireworks – literally. When they lit up the huge torches I could feel the heat all the way back in the middle of the stands. There was plenty of commentary between races as well as during them, and explainers on how the event worked, including the flags and such. There were plenty of ads and blatant product placement, too, but it's how they pay the bills, so I'm OK with that. I like how there are many levels you can watch the race on. People like me can enjoy analyzing the passes and the different lines the racers took. Others who are more interested in the overall spectacle can just sit back and enjoy the huge jumps and crashes.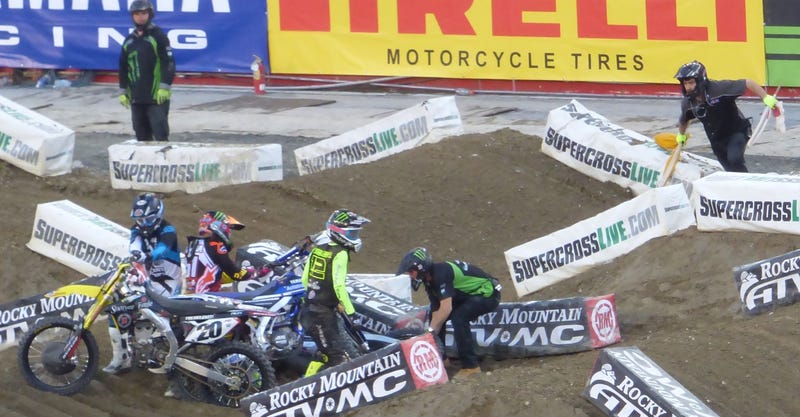 Because yes, crashes happen. The great thing about being there, as opposed to watching it on TV, is that you can see all of the track all of the time. If there's a crash in the back of the pack, or an intense race for sixth place while the podium positions are already pretty well set, you can watch those instead of the leaders that the cameras focus on.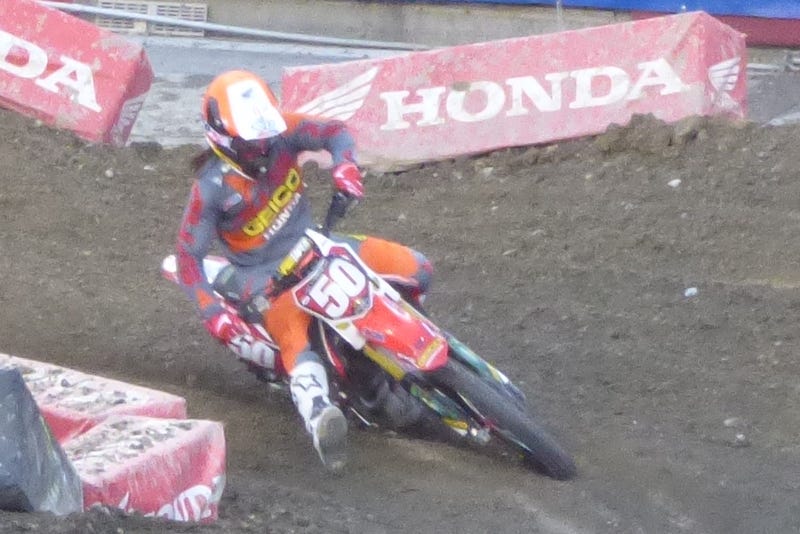 I was super impressed by 250SX points leader Malcolm Stewart. He placed third today, and was one of the best sports about losing that I've ever seen. While of course he wants to keep his points lead, his whole attitude is basically "I'm just happy to be here, man."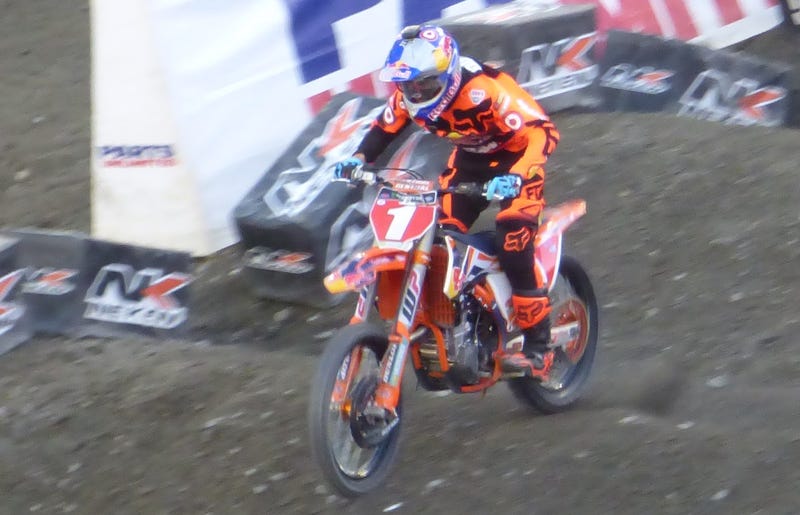 The 450SX race went similarly, with points leader Ryan Dungey also taking third place.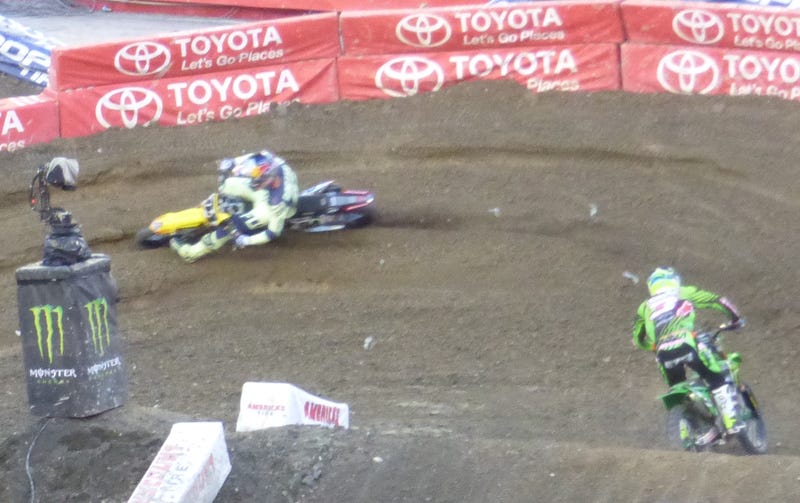 Ken Roczen and Eli Tomac fought their way past Dungey fair and square. I ride motorcycles but have never tried dirt, and I learned a bit by watching these guys. For example, Roczen is way off the traditional racing line here, but by dropping his wheels into the ruts he can literally corner like he's on rails, maintaining a higher speed despite the less optimal line. Slower riders tended to clip the apex in a more traditional line.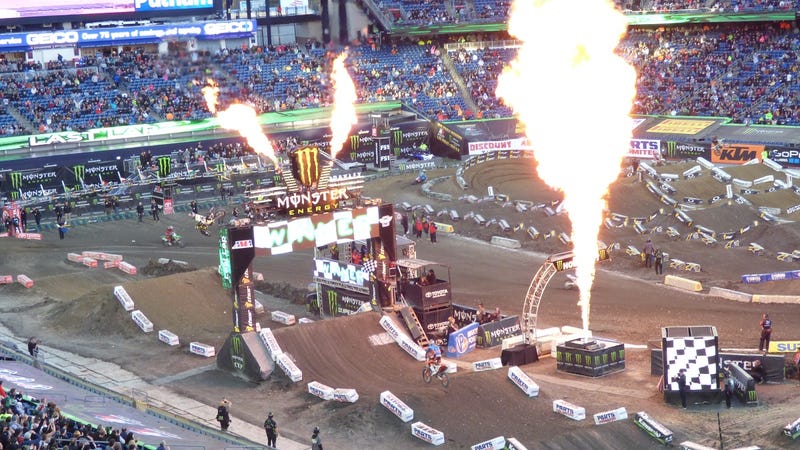 I had a great time. Watching Supercross on TV is fun, but being there is well worth it. You can see so much more of what's going on, and you can watch what you want to watch, not just where the cameras happen to be pointed. Even if you're just a casual fan like me, I recommend checking one out sometime.
(Originally published on Oppositelock. Reposted with permission of the author, who just happens to be me.)