I took out a KTM 1290 Super Duke GT and ran it on some highway, some city, and some fun roads around Alice's Restaurant.  It's the the most recent sport tourer to catch my eye and is a possible replacement for my Ducati Multistrada 1200S Touring.  It doesn't look like a trunk is a real possibility, and I do like those in the land of lane sharing in the US (California). But it's got a passenger seat, so long trips would be easy by combining dry bag and side cases (even with all the junk I sometimes carry).  A viable competitor would be the Ninja 1000. I was curious about the Ninja 1000 with hard bags and will see about using Kawasaki's test ride program to compare that one, even though I've probably had too many inline four streetbikes.  My Multi and bikes like the GSW are way more comfy and touring focused than this GT, though, as it leans into sport pretty hard.  After all, it's not much more than a 1290 Super Duke R with a windscreen, bags, heated grips, and a bunch of stuff I would not want to try to add to that machine. It's not a lot, but it's a world different from the straight up R.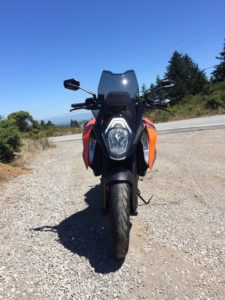 Speaking of sport touring, the bag setup is really sleek on the bike, and the big KTM looks great with them off the bike too.  Two metal "pockets" on each side of the rear fairing are the only indication of the bags going on at all.  No funny metal rack things to look less than ideal when you don't have the bags on is a plus in my book. It's also got comfy ergos for my 5′ 8″ frame with 32″ inseam, so touring is on the menu. Wind management is pretty good too. There's plenty of air moving around at 75 mph, but nothing blowing your head off with the adjustable windscreen in the upper of its two settings.  It's much better than my Multistrada was stock for me, although it is pretty far from an R1200RT in the other direction.
Now the fun bit.  It's got the 1290 Super Duke R's beloved engine and a big windscreen so you don't get blown off the silly thing.  Tuned for more torque???  Yep.  TORQUE.  Yep, all caps and I'm not retired, nor do I use AOL as my email provider.  It's big, plentiful, and makes this bike easy to scoot along in nearly any gear.  Another design element I like is the tall top gear which allows the machine to loaf along at 4000 RPM at 70 mph.  The engine mapping has three modes, but the sport mode is the one I want to explain as the other two are really good.  Sport mode, though, is more and it's fun! Rolling on hard feels like waking an angry demon and sounds similar with what seemed like more induction noise.  The same roll on in other modes is fast but as fast (I think) and not nearly as loud and fun.  It's a power fiend's fun mode.  I suspect that using this full throttle a lot will reduce the range considerably like it does on my Multistrada.  If you're restrained, though, the 6 gallon tank and maybe 40 mpg will get you quite a ways down the road.  I didn't test the mileage but I know the tank is 23 liters.
There were some things I didn't like.  As a guy who has a bike that does everything really pretty well except go 5 mph, I was bummed that this machine doesn't do that well either.  Even at 9 mph in first gear the bike chugs and doesn't like it.  It's not as unevenly fueled as my 2011 Multi at, say, 6 mph, but it isn't happy.  I was hoping for better but I do understand. It's just not going to make you or a passenger happy if you do have to thread through standing traffic in San Francisco to get past a traffic issue. Not that this is ever fun, but if you try it on, say, an R1200RT, R1200GSW, SV650, F700GS it's just soooo much easier and more relaxing.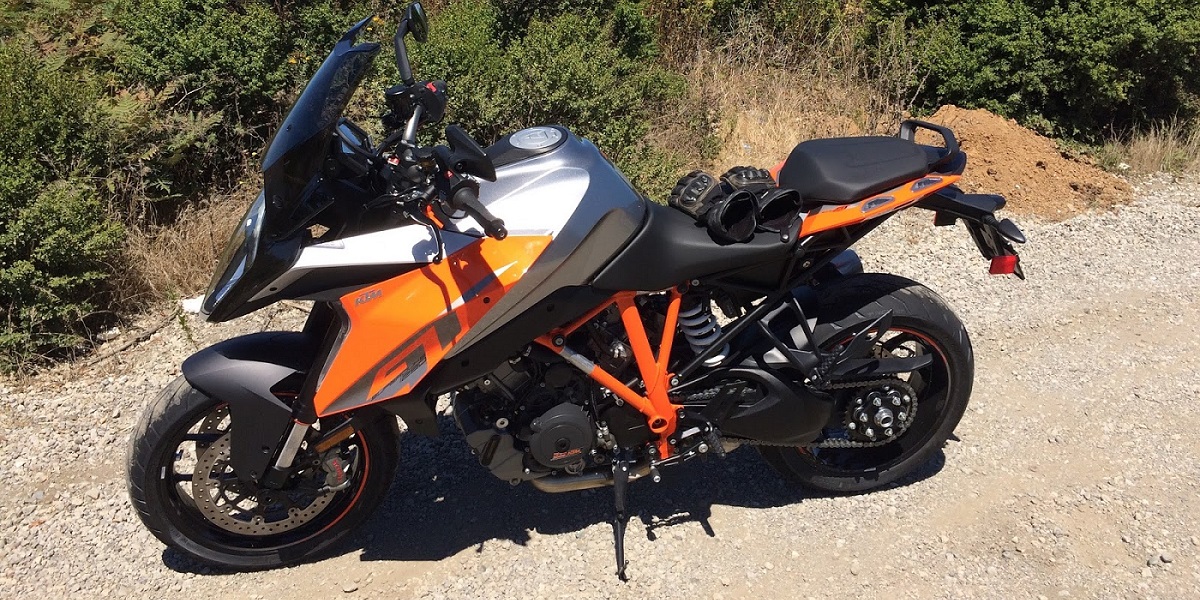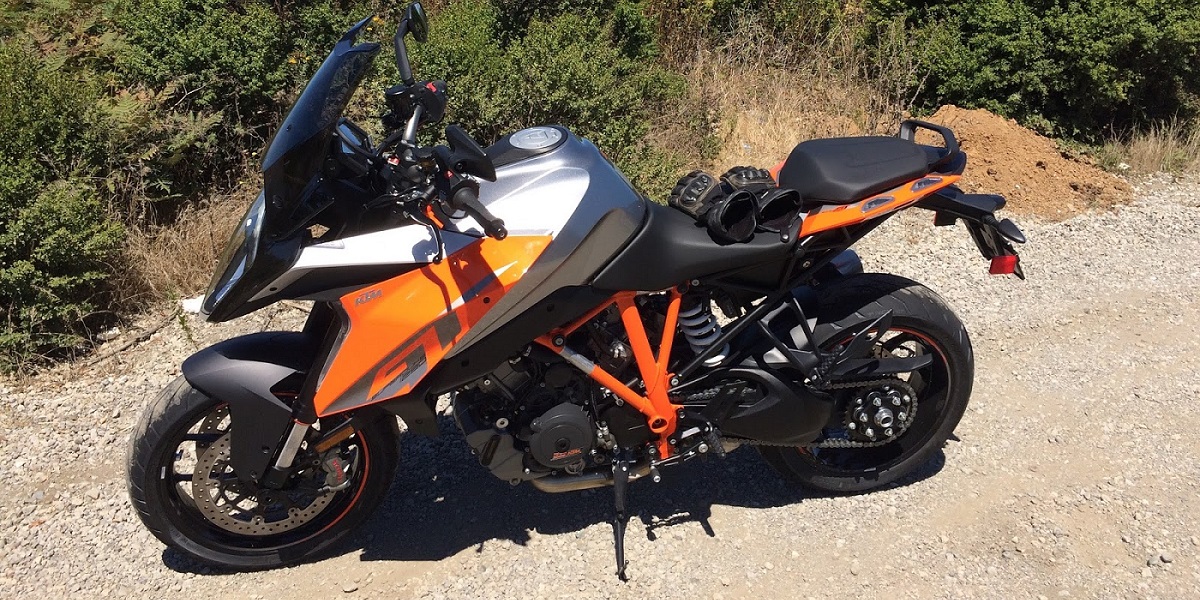 There was also a noticeable amount of heat coming up onto the back of my thighs when stopped after the bike had been running for a bit.  Not awful, as it wasn't a hot day, but more than any other bike I've owned (I've skipped the Duc racetrack escapees).  The bike also had a sort of high-frequency vibration when first applying from the brake.  I only felt it in my hands. It might have been the surface of the brake disc or pad.  Not sure, but it was like a stronger version of what I felt when I put a pretty aggressive semi-metallic pad on my R1200RT.  It was an early demo bike so something might have been amiss there.  The brakes worked great and had a pretty good feel.  Not as good as an S1000RR or R, but very nice.
Overall I'm really impressed.  You can read other articles or their website for all the details as there are many.  It's got traction control, ABS, cornering ABS and traction control, semi-active suspension, heated grips, cruise control, cool led cornering lights, a cool configurable dash (minus TFT color bling but I liked it), factory optional heated seats, slipper clutch, quick shifter, and probably other stuff I've forgotten.  Add some firm but not silly suspension and the whole active thing and it's so well behaved it seems downright reasonable to have a 173 hp motorcycle with 106 lb-ft of TORQUE.  Good times if you have $20k for a stinking motorcycle! Maybe it represents a return to the days of yore when a VFR was a popular sport touring machine in all its mechanical glory?  Or maybe it's more Harley as the name is gosh darned mouthful.