So I caved. I just couldn't go through ANOTHER school year without a motorcycle. So I hopped on Kijiji and bought the cheapest thing that had fuel injection and ran.
Enter, 2009 Kawasaki Versys 650. Motorcycle #7 in my stable, and the fourth with a 650cc motor.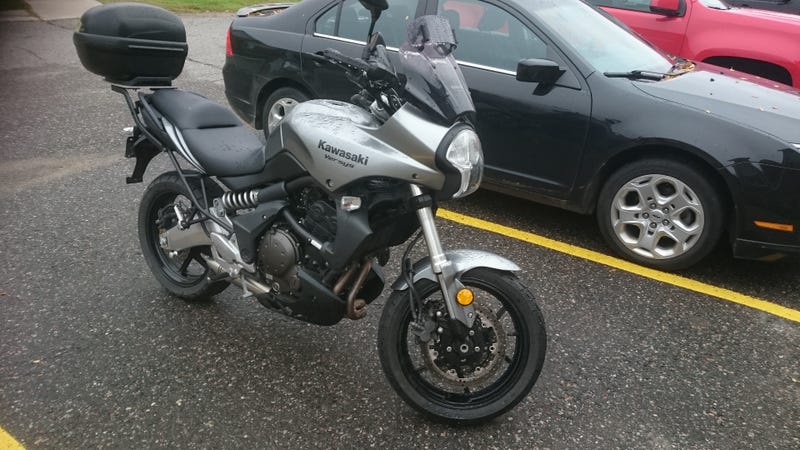 This particular example is shod in Shinko… something or other (I tend to call them crap) tires and has been lowered two inches (one inch in suspension, one inch from a foam-ectomy in the seat). A small wind deflector on the screen rounds out the modifications.
So, where do we start? Well, first impressions are that this is a 7/8s version of the BMW F800R that I have sitting at home. Seriously. Both bikes are parallel twins, 6 speed transmissions, both riding on 17 inch wheels, and both weigh in at roughly 440lbs wet.
Motor: This particular lump has seen a lot of duty in Kawasaki's line up. Being used in the Ninja 650, the ER-6N, the Versys 650 and the Vulcan 650, it's a cheap and cheerful motor, chucking about 65HP and 45ft-lbs at the rear tire through a chain. It's not the world's most exciting motor, and I personally dont like I-2s (I much prefer V-twins) but it does the job, and it does the job cheaply. I'm getting about 55mpg on the freeway at about 110km/h.
Brakes: I had to do a double take at these. These calipers look identical to the 16 year old units on my 2000 SV650! Truth be told, these Tokico calipers are used on just about every single "cheap" bike there is. And they aren't THAT bad. The feel at the lever is a little wooden it must be said, but nothing a new set of pads and some new fluid wouldn't help fix.
Suspension/Handling: Here, I'm a little annoyed. This thing has upside down forks… on such a cheap bike? Even my BMW didn't come with UPDs until 2015. The previous owner was a shorter guy, so the whole thing sits an inch lower to the ground, with another inch taken out of the seat. This brings the seat height WAY down, and contributes to why I feel like this is a 7/8th scale F800R, and not an actual adventure bike.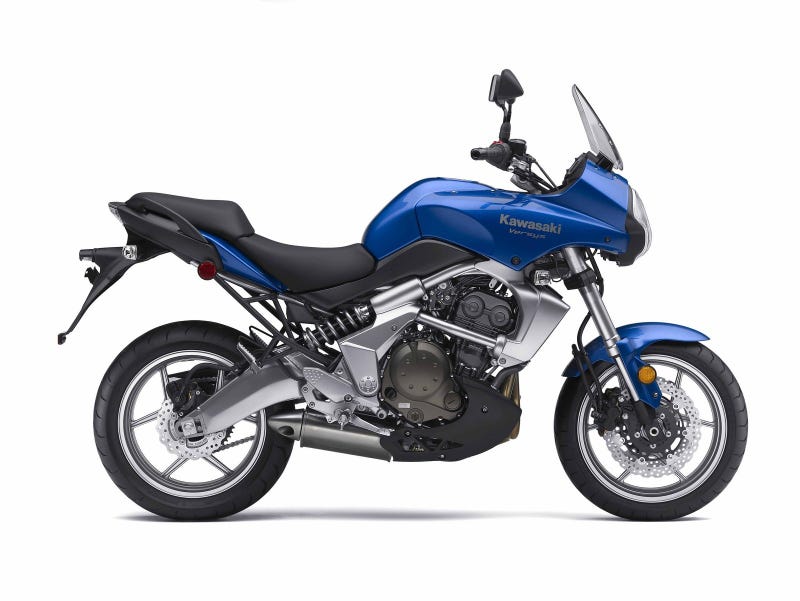 As far as handling is concerned, the bike is REALLY let down by those junk Shinko tires. The chassis feels light and nimble, and eager to turn in. But a rear with a flattened middle section (at least I know the previous owner did not rag on it hard) and just a shitty tire overall really really detracts from any athleticism this bike has. Once I get a set of Michelins or Dunlops spooned on this thing it should really wake up in that department.
Overall, it's not a bad bike. It feels like a slightly taller and much more upright Ninja 650, which is not a bad thing if you like the Ninja. It's a cheap and cheerful runabout that won't leave you on the side of road, and will soak up some of the bumps that the odd fire trail will throw at you. For how cheap they are on the used market, it makes a great machine for just getting out there and exploring the countryside.
And to answer everyone's burning question, YES, this can be a good beginners bike.