I've had a good run with my Honda PC800. I've been commuting on it for a few years. We've been all over New England and eastern New York. It's taken me to the Cabot Trail and back. It's even handled my first track day without so much as a blip. But it's time for me to move on. Yesterday I brought home my new ride – a 1995 Honda Shadow ACE 1100.
You may be thinking I'm crazy. Here I have a comfortable sport tourer which, despite a few hiccups, has been extremely reliable and low maintenance. There's nothing wrong with it. So why change? I could say that it's because it's set up well for long distance touring, but I don't do that these days and want something more appropriate for just putting around. That's partly true, but the truth is that I've simply gotten bored with riding it. My quick test blasts on my wife's Savage have left me wanting a more visceral experience while I'm riding. The Savage is too small for me, but it reminded me of the Harley Street Glide I rented in Florida. I was anti-Harley for a long time, an opinion I've changed after meeting a bunch of cool Harley riders and putting 500 miles on that Street Glide in two days. No, it wasn't a corner carver. But it was quite comfortable, sounded awesome, and was generally quite cool. It put the cruiser bug in my ear.
I've been commuting regularly on my PC800, and it's worked well for that. That's what it was made to do. But it doesn't give me the drama or the sensations that a cruiser does. It's quite refined, especially for a design dating back to 1989. The exhaust note sounds more like George Jetson's flying car than a motorcycle when I'm going down the road. Kate Murphy told me it sounds more like a TIE Fighter bombing down the front straight at Palmer, which is pretty cool, but that's not what I hear. It also gets pretty warm behind that windshield on a hot summer day. It may have a vented Clearview windshield, but opening that vent all the way doesn't seem to help.
I liked the Harley, but Harleys are expensive. I started looking at used metric cruisers. That was more like it. I was open to any of the Big Four – Honda, Kawasaki, Suzuki, or Yamaha – but I fell for the Honda Shadow ACE 1100. It's about the most blatant Harley ripoff you can get, so much so that Harley Davidson actually sued Honda over it. The ACE variant even switched from the Shadow's standard dual pin crank to a single pin to get the lopey Harley sound at the expense of 10hp. I don't care – I'm not racing this thing. As long as I can squirt into traffic with a satisfying BRAAAAAAP, I'm happy. It's big enough that I can take a passenger without a problem. Plus it has the speedometer on the handlebars, not on the tank like most cruisers. I hate how far you have to take your eyes off the road to look straight down to see it. Best of all, it looked like I could get one of the more basic, affordable Shadow ACEs for around the same price that I'm asking for my PC800. The idea was to turn one bike into another with little or no additional outlay of cash.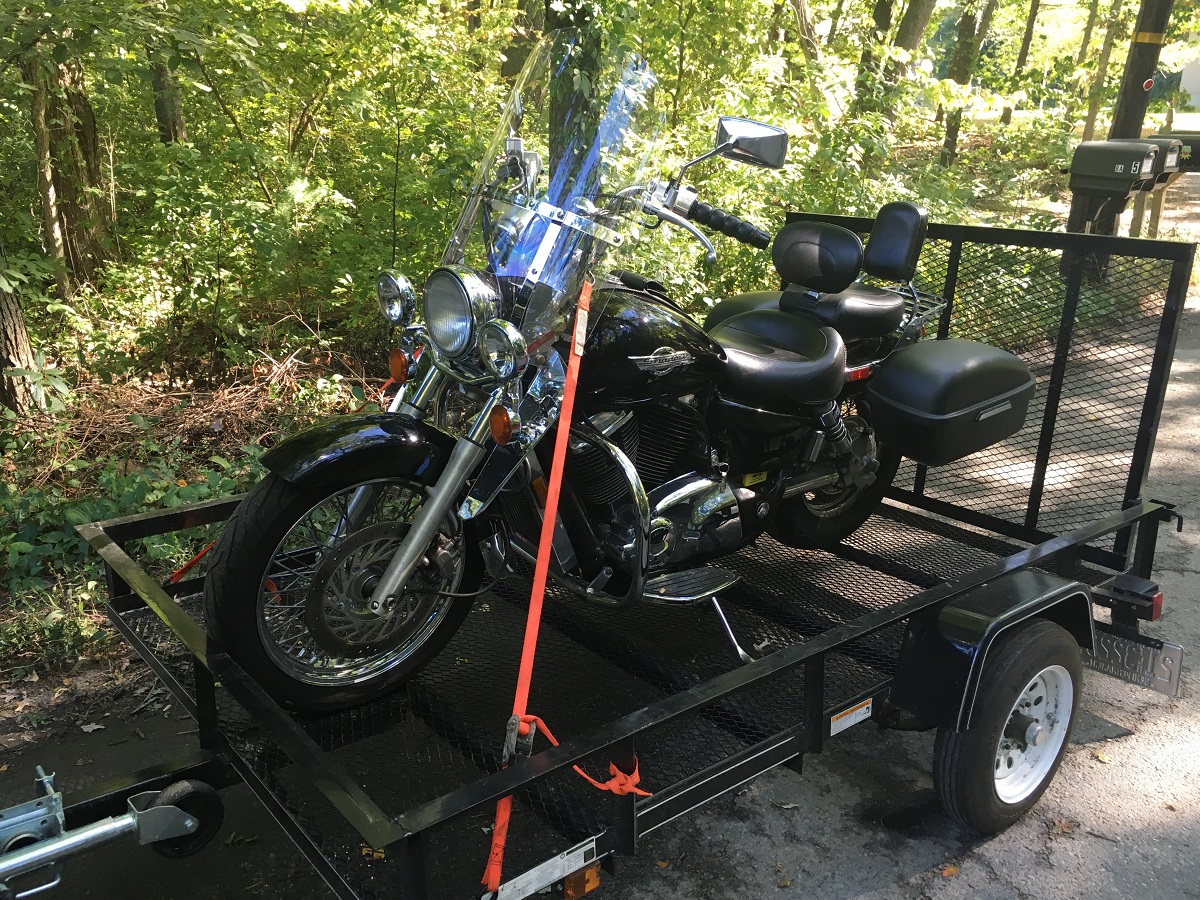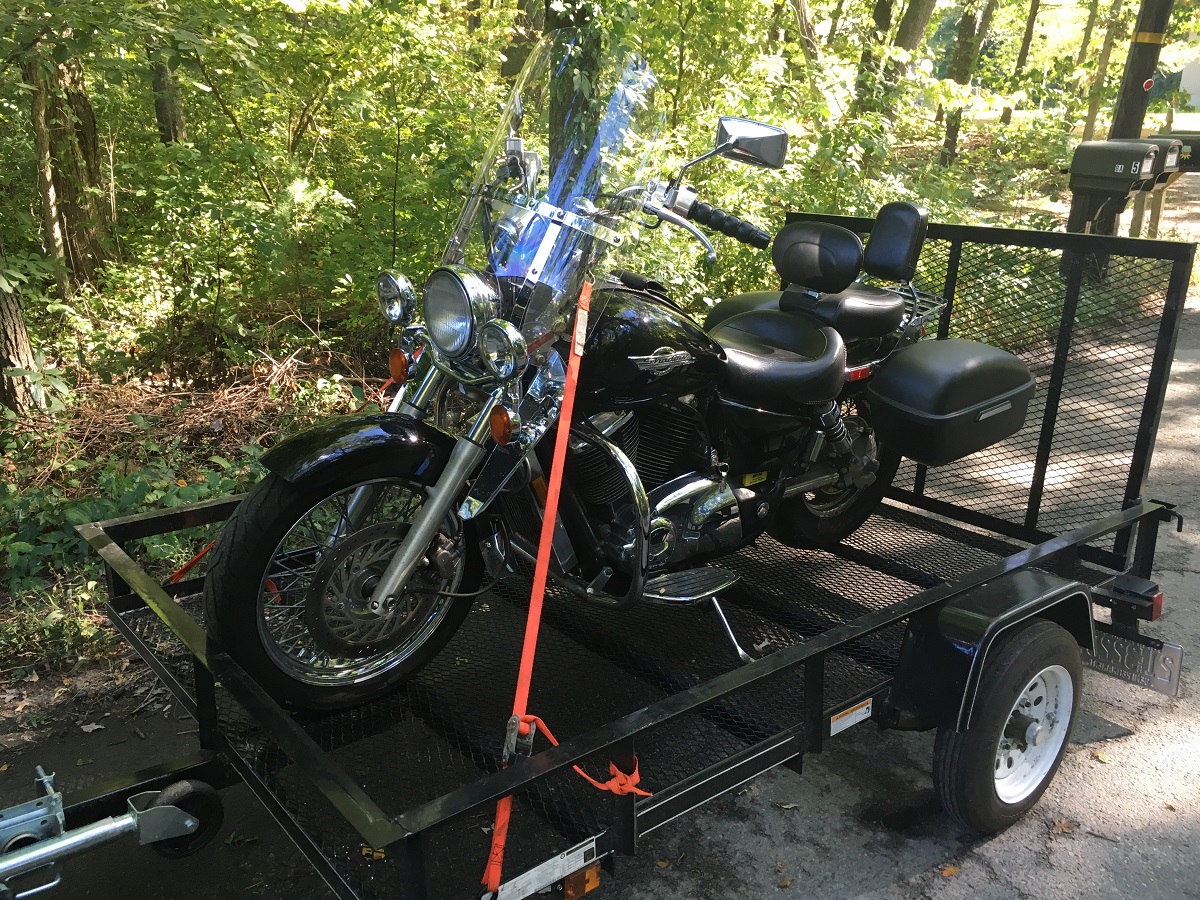 Then I found it on Craigslist – a black 1995 model, right at the top end of my price range but in there, and already equipped with more than all the accessories I'd want. Twenty-two pictures showed off all of these features – hard bags, removable windshield, driving lights, footboards, back rests… It seemed too good to be true, especially at that price, but there it was. She said that if I really wanted it, we could splurge for it out of savings and replenish the piggy bank when my PC800 sold. I have the best wife ever.
I went to look at it. I'd been holding myself back from truly falling in love with it. There will be other bikes, so if this one isn't as good than the pics and the ad make it out to be, I can walk away and try again later. It wasn't as good as in the pics – it was better. Nearly everything works perfectly. It looks great, sounds great, and feels great. The guy even let me take it down his quiet road and back. Test rides often aren't an option when buying a bike, so of course I took him up on that.
The Mustang seat is extremely comfortable. The forward foot controls will take some getting used to. The handlebars and their controls were a bit too far away for my comfort, but that's an easy adjustment. I didn't let 'er rip too much in the quiet neighborhood, but I gave it a couple of quick blasts and it responded well. The brakes, too, were surprisingly good after the lackluster reviews I'd read of them.
It's not quite perfect. The stock rear turn signals disappeared when the hard bags were added by the owner before the seller. In their place is a license plate frame with two tiny amber strips on the sides, which weren't working during my test ride. He's been lucky to pass inspection with those. But that's also cheap and easy to fix.
I'd rather have the hard bags than stock turn signals anyway. The irony of picking up this particular bike is that I haven't given up my ability to tour after all. The bags are huge, and though there's no top trunk, there's a rack behind the sissy bar that I can strap stuff to. I'd just need to pack things a little differently than I have in the past and I can still go away for multiple days at a time if I have the chance to do that again someday.
So that does it. I'm a cruiser guy now. I think it'll suit my more relaxed riding style better. The quick release windshield will keep the wind off me when I want to, but let me catch the breeze when the weather is warm. It needs a few adjustments, but nothing I can't handle. The short wait to fix these issues and get this thing on the road legally will definitely seem longer than it is, but it'll be worth it.
My PC800 is for sale, if you want it – $2,895.